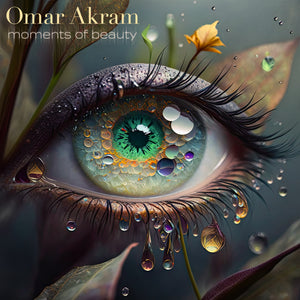 Having recently celebrated an extraordinary 20 years since the release of his debut album Opal Fire, Omar Akram has created innumerable musical memories for fans with his many Billboard charting recordings and tours throughout the U.S. and overseas in England, France and most recently, China. While the Grammy winning pianist/composer is grateful to have shared so many inspiring moments with appreciative audiences, his latest collection Moments Of Beauty is driven by and animated with a spirit of loving reflection and contemplation that taps into more personal cherished memories but also feels deeply universal.         

Featuring the lush, dynamic aural coloring of the Niagara String Quartet – a renowned ensemble that has performed with superstars like Josh Groban and Rod Stewart – the gorgeously orchestrated 10-track set follows two of Omar's most unique releases, Destiny (2019) is an epic, years in the making album produced by legendary pop producer Walter Afanasieff, featuring the 80-piece Slovak Symphony Orchestra. The Light Will Come is an intimate solo piano album comprised of songs he composed and debuted on "Omar's Music Chamber," his weekly YouTube docu-series and performance platform, during the pandemic lockdown era.       

In many ways, Moments Of Beauty is the ultimate expression of an approach to composing and producing music that Omar has developed instinctively over the years. Whereas early in his career, when he released Opal Fire, Free As A Bird (2004) and Secret Journey (2007), he would go into the studio, take a seat at the piano and start creating. Now, ten years after winning the Grammy for Best New Age Album for the Gregg Karukas-produced Echoes Of Love, the pianist is in tune with letting life experiences, both joyful and challenging, serve as his chief inspiration. Moments Of Beauty is an album which led him to reflect upon his own mortality and the preciousness of each moment of life.   

This digital download includes a 4-page PDF booklet. 

Release Date : July 7, 2023
Format : Digital Download (MP3)

Track Listing:
01. Moments Of Beauty
02. Passage Of Time
03. Dancing On My Own
04. Sorrow
05. Falling In Love
06. Promises
07. Special Gift
08. Mystery
09. Someday
10. Walking Free